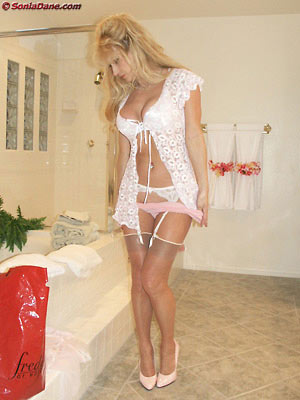 Husband Brad writes,
I love it when Sonia goes shopping and brings home pretty things to wear. And she loves to play dress-up, modelling the sexy things she finds. The last pair of panties that Sonia pulls out of her shopping bag, is a pretty pink pair of Olga full-cut nylon brief panties. Sonia looks so sexy and feminine in these lacy silky pink panties.
Step-by-step these pictures progress like a slide-show as she takes the panties out of the bag, steps into them, pulls them up over her shapely legs covered in vintage nylon reinforced-heel-and-toe stockings. She models them from different angles, and then slowly slides them over her hips and down her legs.
Halfway through the series, she changes from her vintage peignoir robe to a little lacy babydoll nightie. I could just watch Sonia play dress-up all day long! Well… maybe not all day… I think my head might explode
21 pics in this photo set. Join Now to See Them All
Tags: busty, heels, lingerie, milf, panties, sonia dane, stockings